About TimeExposure
TimeExposure's goal is to help professional photographers develop and run efficient, profitable and enjoyable businesses.
We do this by developing the best software tools for the industry and providing training and support to help you use these tools effectively.
Background
TimeExposure was founded in 2004 by Peter & Fran Howlett
Peter has an Engineering degree and Fran is a former portrait and wedding photographer who holds a Diploma of Photography, is a Master Photographer and a former national board member of the Australian Institute of Professional Photographers.
Through TimeExposure, Peter and Fran support the following important organizations: Médecins Sans Frontières and World Vision.
Location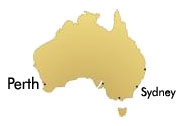 TimeExposure is based in Perth, Western Australia.
Geographically, Perth is almost exactly on the opposite side of the world to Jacksonville, Florida and consequently it's time zone is 12 hours ahead of New York time (subject to daylight saving adjustments).
Contact
For sales enquires, membership questions or technical support, the best way to contact us is to submit a Support Ticket through our Support Center.
The office is usually manned during the Perth Busines Hours except when we are travelling to events. See the box on the right for details of our office hours and the current time in Perth.
Ownership
TimeExposure is a division of Nate Pty Ltd atf The PMH Investments Trust (ABN: 57 832 044 582).