Back
Installing Quicktime on Windows 10 & 8
With ProSelect 2017r1 and newer, Quicktime is no longer required. 
Using Earlier Versions of ProSelect
For earlier versions of ProSelect, Quicktime is used on Windows machines to import .psd files and for slideshow movie exporting.
If you wish to install Quicktime on a completely new computer or fresh install that is running either Windows 8.x or Windows 10.x, then you may receive the following error.
This is due to a recent change by Apple with latest Quicktime releases v7.7.7 and v7.7.8 (and possibly newer).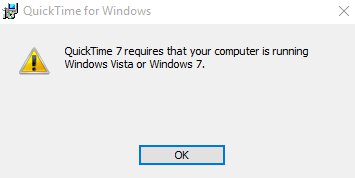 Note: This issue will likely not occur if you have simply upgraded your computer to Windows 8/10 from and earlier version which already had Quicktime installed.
Solution
You can do the following to resolve this, you can either:
Download and install Quicktime v7.7.6 for Windows from the ProSelect Downloads page for Windows. Make sure that you re-start your computer after installing this.

Note: When installing, if you get this error "The File 'ul_catalog.98CB24AD_52FB_DB5F_FF1F_C8B3B9A1E' cannot be installed because the file cannot be found the in the cabinet file 'QuickTime.cab'.... "  or similar, then make sure you are running as "Administrator" all the time, or see this article we found on the Internet: Unable to install quicktime 7.75.80.95 to Windows 8.1 - Microsoft ....

Apple will eventually prompt you if you wish to update to the newest Quicktime version and it is fine to do so if you choose to (this was also reported to have fixed the above error).  The issue is only about the initial installation of Quicktime on those Windows versions.



OR




If you wish to use a newer Quicktime version, then you will can take the following steps (skip step 2 if already downloaded):
Close ProSelect if open.
Go to official Apple site and download the current version of Quicktime.
You can unpack it with WinRAR, Winzip or other decompress tools.
You will see 4 files in the ".exe" file (as it's actually a package). Don't install with QuickTime.msi, it will fail.
Double click on AppleApplicationSupport.msi to install, then do the same for AppleSoftwareUpdate.msi.
Open "Apple Software Update" you just installed (found in your Programs list).  This will then check for new versions, and you should see QuickTime in the list --- Install it.
Once installed, restart your computer (that way ProSelect will now see that Quicktime is installed)
Open ProSelect.
KnowledgeBase Article: Installing Quicktime on Windows 10 & 8