Back
Lightroom Plugin cannot connect to ProSelect
When trying to use the Lightroom Plugin to Export images from Lightroom to ProSelect, if you get a message from the plugin that it could not connect to ProSelect then this article explains why this might be happening and what to check.
How it works
The Lightroom plugin uses a console application called PSConsole.app (on Macs) and PSConsole.exe (on Windows) to communicate with ProSelect using a TCP/IP connection. In order to do this:
(a) PSConsole must be allowed to run (some third-party plugins may prevent this), and
(b) ProSelect must be allowed to receive incoming messages from PSConsole (some firewall software may prevent this)
The checklist below will help you determine if this is not happening correctly.
What to check
1. You have the latest update of ProSelect installed. If your license is for the latest version, you will find this on the main downloads page.
2. You have the latest Lightroom Plugin installed - you will also find this on the main downloads page. If you are using the latest version of ProSelect 2020r1 or newer, you can install the Plugin from within ProSelect using the "Install Lightroom Plugin" command under the Help Menu. This menu option is only shown when ProSelect detects that Lightroom Classic is installed on your computer.
3. Make sure ProSelect is running. If you have more than one version installed (we recommend against this!) then make sure that only one copy is running.
4. Restart your computer!
5. In ProSelect, open the About ProSelect window (on Macs: under ProSelect Menu, on Windows: under Help Menu) and make sure that it shows Command Processor: Online.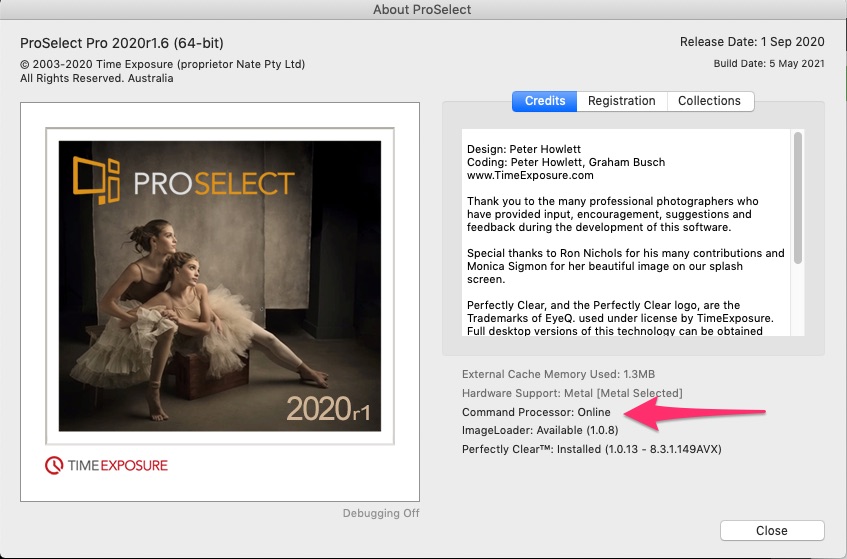 If it doesn't show this, try restarting your computer.
6. Make sure that ProSelect does not have any dialog windows open - only the main screen should be showing.
7. Check that your anti-virus software is not stopping the program PSConsole.app (on Macs) or PSConsole.exe (on Windows) from running. See these articles:
McAfee stops ProSelect Lightroom Plugin
AVG Anti-virus software stops ProSelect installation and Lightroom Plugin
8. Check that you don't have any firewalls blocking incoming connections to ProSelect.
9. On Macs, the first time you test the plug-in, OSX 10.15 & newer does a security check on the plugin. This may take some time to complete and cause the plug-in to timeout with the "could not connect" error message. In this case, close and re-open Lightroom and try the test again - it should work after this.
10. On Macs, if you are using OSX 10.15 (Catalina) or newer, check that you have enabled all the permissions for ProSelect as covered in this article: ProSelect on Mac OSX 10.15 Catalina & newer.
Still not working?
If you are still having an issue, please contact TimeExposure Support and let them know which of the above items you have checked (you should have checked ALL of them first!).
KnowledgeBase Article: Lightroom Plugin cannot connect to ProSelect