COVID-19 Relief - We are here to help
The ProSelect team realizes this is a stressful and trying time for not only our businesses, but for the health of our friends and family. As discouraging as events currently seem, we know that previous events in our history have made us stronger.
Like everyone else, we are taking precautions and implementing social distancing practices. Since our team spans the world, we all continue to work from our various locations, supporting, educating and continuing ongoing development of the software.
---
What we are doing to help you now...
In an effort to help ensure your access to your ProSelect software, we have initiated programs to reduce your monthly payments by:
allowing you to temporarily halve your lease costs for two months
allowing you to defer your Easy Pay payments by two months
deferring all PLUS plan monthly payments by two months
We have also extended all current PLUS plans by two months at no charge.
Additionally, we are making SendMyRooms™ available for ALL users with any active outright-purchased ProSelect licence for the next four months at no charge. You can use this technology to easily get your customers to send you their wall images to use in your ProSelect in-person or remote sales sessions to boost your sales results while maintaining social distancing.
---
Over the last week, we have been working hard to get these changes into place for you and a huge thanks go to our team for getting all this completed so quickly.
We believe the coming months can be a time of strengthening family ties and an opportunity to take care of all the things in business that have gotten sidelined in the past. We realize the importance of ProSelect to your business and how it plays a vital role in generating sales. We will be providing more opportunities for learning and development during this time.
It is our wish that you continue to grow your business and use this time as an opportunity. Please stay healthy and support your neighbors. Be sure to follow our Facebook User Group for education and connections.
Peter and Fran Howlett
TimeExposure.com

March 23, 2020

Monthly Lease Rate Discount
In order to assist studios whose businesses might suffer during the current corona-virus period, you can reduce your monthly lease payments by half, for up to two months. This will not only save you money but, more importantly, allow you to keep using ProSelect to generate income for your business. It is our hope that you will also be able to spend time optimizing and learning more about ProSelect.
You can start the two-month period whenever you choose (prior to June 30, 2020) to discount your next two lease payments by 50%. One two-month relief discount period is available for each lease customer. Activate this option within your account on TimeExposure.com (under the My Products tab).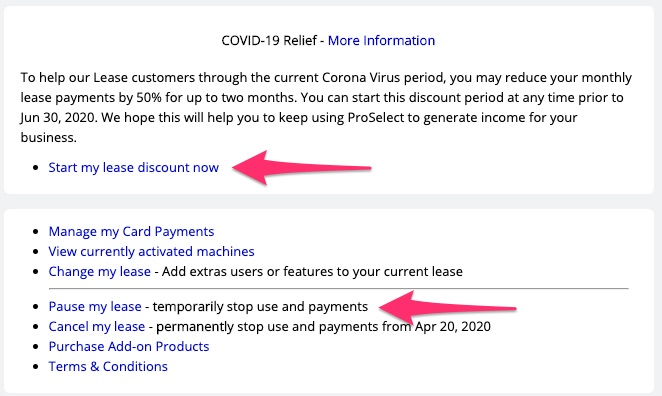 Pausing Your Lease
If you feel it necessary to stop all lease charges, this can be done. Pausing will suspend your lease payments from the day you choose. Your ProSelect software will not be accessible while paused. Paused leases can be resumed at any time during the 6-month automatic pause period. Any remaining time in your current month will be moved to the period following the resumption of your lease.
Once resumed, you will need to wait until after your next lease payment before you can pause it again.
For the time being, users who are still in the first six months of their lease can also pause their lease and monthly payments.
Easy Pay Purchase Extension
If you are currently making Easy Pay payments (over 6 months) from an outright purchase or upgrade, you can choose to have two-months of payments deferred to the 7th and 8th months (if applicable). You can choose this option in your My Account area (under the My Products tab) any time prior to June 30, 2020.

TimeExposure PLUS Extensions & Monthly Payment Deferrals
If you are on PLUS monthly payments, then there is nothing that you need to do - your April and May payments have been automatically deferred to the 13th and 14th months (if applicable) thereby automatically extendng your PLUS expiry date by two months.
If you paid for your TimeExposure PLUS renewal in one payment or you purchased or upgraded ProSelect and your PLUS was still active on March 1, 2020 then your PLUS expiry date has been automatically extended by two months at no charge.
SendMyRooms Free Use
If you have any active outright ProSelect license, you can now utilize the SendMyRooms™ system at no charge until July 31, 2020. This will allow your customers to take and upload rooms for their ProSelect viewing session run in-person or remotely. See our series of movies on how to use ProSelect and Zoom to run Virtual In-Person Sales (VIPS) sessions .
Note: Direct access to SendMyRooms.com from within ProSelect is programmed to only be accessible if your PLUS is current. If your PLUS has expired, you can easily send invitations and download any uploaded rooms from within the SendMyRooms Management area by accessing this under the My Extras tab in your TimeExposure.com account.
We have made this tutorial movie to show you how easy it is to do this.