Using ProSelect with Adobe Lightroom
While ProSelect requires Photoshop to automate the Hi-res Production of images, layouts and book pages, Lightroom can be used as an initial raw image processor for preparing image for ProSelect and also for some retouching functions on final images.
Working with RAW Images
Because ProSelect doesn't read raw images, you need to create either .jpg, .tif or .psd versions for loading into ProSelect. The simplest way to do this is by setting your camera to shoot raw+jpg.
Alternatively you can use other software, such as Lightroom, to convert your camera's raw images into one of these formats. ProSelect's Lightroom plugin includes an export function that automatically do this as it loads images to a ProSelect Album file.
Important: Your raw images and their associated .jpg (or .tif or .psd) files should be all kept in the same folder so that ProSelect can locate the raws if you wish to open them in Lightroom or Photoshop while you are working in ProSelect.
Setting up ProSelect to work with RAW images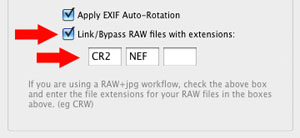 Open ProSelect's Preferences and select the Importing tab.
In the Adding Images section, check the Link/Bypass RAW images with extensions checkbox AND make sure that the file extension for the raw images from your camera is in one of the three boxes.
Setting up ProSelect to work with Lightroom 3+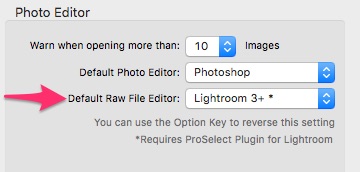 To use ProSelect with Lightroom 3 or newer, you need ProSelect 2012r1.4 or newer.
Tell ProSelect that you are using Lightroom 3+ in ProSelect's Preferences -> General Settings -> General -> Photo Editor.


Download and the free ProSelect Plugin for Lightroom from the ProSelect downloads page.


Install it into Lightroom using the instructions in this movie.
The Plugin will then enable you to
Export selected raw images from Lightroom into a new or existing ProSelect Album
Open the associated raw files in Lightroom from selected images in ProSelect
ProSelect Lightroom Plugin Export Window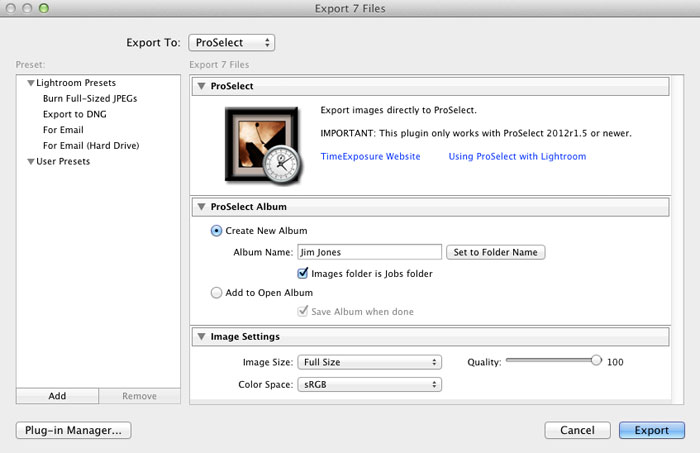 More information
You will find more information in how to install and use the ProSelect Plug-in for Lightroom 3 in the ProSelect Reference manual (v 2012r2.1 and newer). Check for the Lightroom Plugin section near the end.
Current Plug-in version
The current version of the ProSelect Plug-in for Lightroom is 2.0.1
Setting up ProSelect to work with Lightroom 1 or 2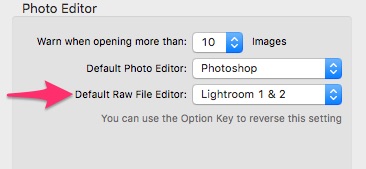 In earlier versions of ProSelect you simply selected Lightroom as the default Raw File Editor in ProSelect's Preferences -> General Settings -> General -> Photo Editor.
In newer versions of ProSelect, choose Lightroon 1 or 2 (see previous image).
This allows you to open selected images in Lightroom from within ProSelect.