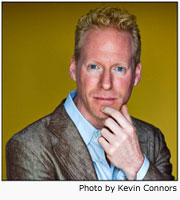 ProSelect Review
by Marc Weisberg
www.marcweisberg.com
Great so you've got your portrait business up and running? Congratulations!!! So now what? Are you going to put your artfully created photographs up on the web and hope and pray to the photo gods that you'll make a sale? Or, are you going to create a memorable bonding experience for your clients that will move them to laughter and tears. If you are like me, it will be the bonding experience. Leave the praying for church.
Studies show that sale by projection blow away on-line sales. Here's how we do it….During the client booking, in addition to setting the session date, we also set their Premier date. We spoil our clients with chilled Chardonnay, excellent coffee, a selection of cheeses, cured meats, savories and sweets. At their premier, we queue up our MacBookPro and attach it to our 52" LCD Sony theatre. We've pre-selected about 60 of our favorite images from the portrait session, color corrected and sharpened them a bit in Adobe Lightroom, then pre-loaded them into ProSelect then click on the movie icon and voila! A stunning movie of our client's images (set to soft emotive music) comes to life.
ProSelect is to portrait sales what Adobe Lightroom and Photoshop is to post production and retouching your photographs. ProSelect is an amazingly robust easy to learn all in one, interactive sales and production software. A few of ProSelect's feature's are: the ability to offer slide shows (set to the music of your choice), a streamlined interface with intuitive icons and one click portrait and wedding sales, quick single image or global image cropping to standard an custom sizes, vignetting, the ability to show your images in color, black and white or sepia with one click of a mouse button, and if you chose to purchase the production module (which I highly recommend): The production module will digitally resize and prepackage your client's entire order for FTP'ing to your favorite lab or for printing in house. The Basic Version 4, costs about US$374, which is great for presentation and sales, but if you really want to full power of the software, you should pony up for the Pro Version 4 like I did…its about US$610.
The reason that the Pro version was important to me is for what I call the digital packaging module. Essentially, the Pro version works like this: Let's say you crop a few images, convert some images to black and white and some to sepia (BTW you can control the look of the b/w, sepia and the vignetting too!) and you have a few different portrait packages (sizes and price points) that you've sold to your client. Instead of going back to your desktop or workstation to pull all your images and start working on the order from scratch, ProSelect has already printed up the invoice for you with or with out prices, placed a thumbnail of the portrait on each line item you've sold and has already put your cropped and converted images in a folder to be sent to the lab or output on your in house printer. Without the (Pro) production version, you would have to manually repeat all the work (cropping, b/w or sepia, vignetting and specific sizes that you've just) sold at your Premier session again. Essentially wasting your time.
Once you know how to use it, ProSelect is simple to use. The software operations are quick, accurate and can be done while sitting and chatting with your clients. It does take a while to set up your price lists, and preferences, there are even slots to list various packages that you sell. ProSelect even offers excellent on-line tutorials on their site that cover most of the in's and out's of the software. Peter's software is amazing and in the photography world I think it is the best thing since sliced bread!!!
Remember I mentioned: ProSelect is truly simple to use, once you know who to use it. That being said, this robust software does have a gentle learning curve. IMHO, it IS the most powerful solution in the market place for portrait and wedding projection sales. What I found most helpful in learning ProSelect is Ron Nichols excellent ProSelect Tutorial Palette for US$99. Downloadable from Ron's site, this fantastic palette docks on your desktop like a Photoshop palette, is divided into mini episodes and walks you through an intuitive step by step video tour of each facet of ProSelect. After completion of the video series, which took me about 2 hours, I was able to set up my price lists and have a firm grip of how to use the software. Using Ron's tutorial enabled me to fast track my learning, saving me countless hours of trying to learn ProSelect by myself and get to the earning the money part of using ProSelect.
One of ProSelect's gems: The ability to create drag and drop, montages, albums and album pages. Abracadabra! Bamb! Using ProSelect's album tool is like pumping full octane Funny Car fuel into your computer. You'll be dazzled when you create an album page in 30 seconds!!! No sh*t. How about creating an entire wedding album or a portrait book in less than 30 minutes? Then showing that book in slide show mode, and selling it to your client?! Made a mistake? Your client needs to change a few images? You can easily make changes to any page layout or an entire album so quickly it will make your head spin!
ProSelect can be purchased through TimExposure's web site, where you can download a free, fully functional 30-day trial. The software support from both Peter in Australia and Ron in Michigan is quick, lucid and spot on, a refreshing feature, especially when you shelle out $700 bucks and are stumped with a software-feature question. Ron also offers a 30 day trial on his video palette.
I have the Composite Album Collection I and so impressed by the breadth of templates and how quick and easy it is to resize them and make elegantly designed pages. TimeExposure's Composite Album Collection 1 consists of over 500 contemporary single and double-spread templates for use with ProSelec t version 4's new album design system. If you're making your own albums, or if you want to create more value for your clients, this software will rock your socks. But, remember, you need the "Pro" version of ProSelect to output your final book design for printing. I use it to create montages for my clients and portrait and wedding albums for our studio. I also uses ProSelect's excellent templates for allot of my blogging.
ProSelect makes the sales and production of portraiture and wedding photography easy. The capital investment and time put in to learn the software will be regained on your first sale and keep paying dividends for years.
Marc Weisberg Studio is an award winning, wedding, family-portrait and commercial studio based in Southern California. Marc specializes in bringing out the natural beauty in people, places and things. The studio's images are featured in numerous publications and published internationally in five books available on Amazon.com Marc is an outspoken advocate of using Lovecat marketing to build a niche business and of utilizing modern technology to enhance photography.