Earlier Versions
Newer Versions
ProSelect 2011r1 - What's New...
Release Date: November 1, 2010
This release includes many great new features and improvements designed to make it even easier for you to increase your sales but also to get things done in less time.
This page explains a few of the major changes. For a list of all changes in the new release, see this Knowledgebase article or the What's New section at the back of the ProSelect 2011r1 Reference Manual (quick access under the Help menu in ProSelect).
---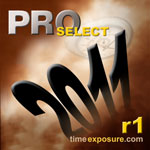 New Splash Screen
Not really a new feature but we have changed the screen that displays when you first start ProSelect so you can see, at a glance, which version your are running.
New Abum File format
ProSelect 2011r1 uses a new album file format which is faster, more flexible and more secure.
You can still read ProSelect albums created with earlier versions of ProSelect but these will need to be converted to the new format before any changes can be saved. ProSelect will ask you if you wish to convert any old format albums when you open them.
With the new format the time to save an album is now much faster especially with larger albums if you have only made a few changes.

Auto-Backup
By default, ProSelect now automatically keeps a copy of any changes that you make every 5 minutes. Some things, such as changes to an order, are backed-up immediately so if you get a computer crash or power outage in the middle of a presentation, you can still recover your most recent changes when you re-open the album.

Showing Multiple Layouts
You can now show up to 16 layouts together in Show Layouts view making it easy to compare and make changes. Want to swap images between layouts? - just drag and drop them between layouts in Show Layouts View. (Note: This feature was replaced with the new "Working with Rooms" in ProSelect 2012r1).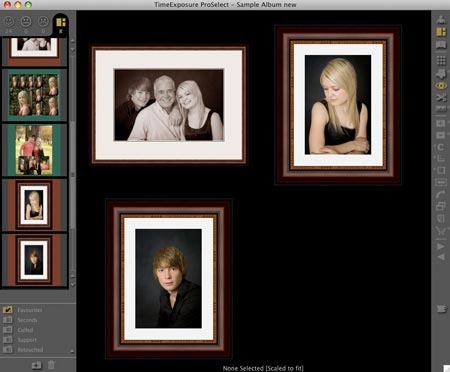 In Select Size View - you can now easily arrange your layouts into a Wall Gallery arrangement either at actual size on a projector screen (or very big TV!) or on a Room View image. Drop-shadows on Room View images now add even more realism to your displays. You can set the size, style, frame and position for each layout.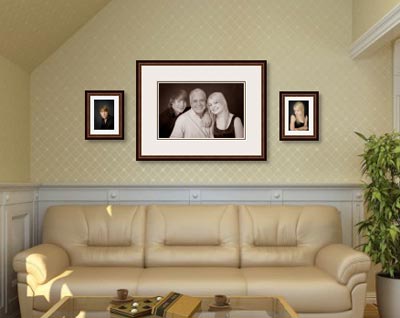 Frames - more frames and easier setup
A new Setup Frames window (under the ProSelect Resources menu) now manages all of the frames that you wish to use in ProSelect. The basic version of ProSelect now allows you to select up to 12 frames (either custom or default) while ProSelect Pro now handles up to 150! To help keep your frames in order, the Pro version also allows you to arrange your frames into different groups as shown below.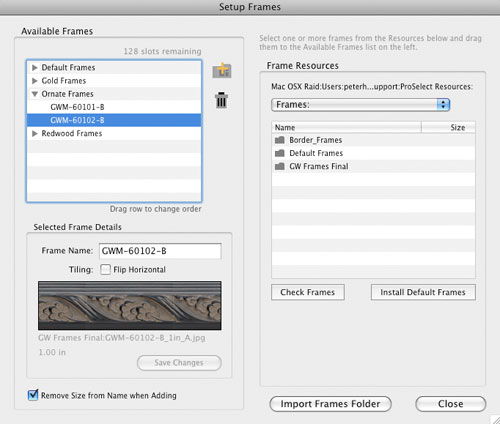 Importing frames is easier too. Just user the Import Frames Folder button to copy a folders of frame images into your ProSelect Resources folder.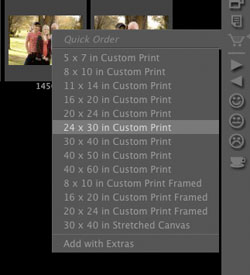 Quick Add to Order
Right-click the shopping cart icon (or use the new "Q" keyboard shortcut) to open the Quick Add to Order popup menu.
Select an item to add it to the current Order Group without leaving the main screen. You can even press the 1-9 keys to set the order quantity at the same time!
This new feature works for both images and layouts and you can choose whether you wish to show the prices in this menu using the "Show Prices" option under the Orders menu.
Apply discounts to individual ordered items
Apart from being able to apply a discount to the whole order, you can now apply a discount to individual items if you wish.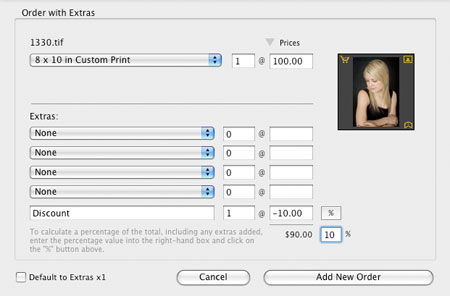 Upload to Animoto
You can now upload one or more sets of images from ProSelect to Animoto to create an Animoto slideshow. This uses TimeExposure's free Upload Manager (which is now included when you download ProSelect) so all uploading occurs in the background while you continue to work. When the upload is completed you can open your browser on Animoto's web site and order your slideshow.
Faster Book Building
There are a number of new feature in this area to help you design books even faster. These include:
Saving the templates used in a completed book into a template group
Auto-populating a series of layouts with multiple images
Auto-creating book pages by dropping one or more images onto a template (with Alt-Option key down).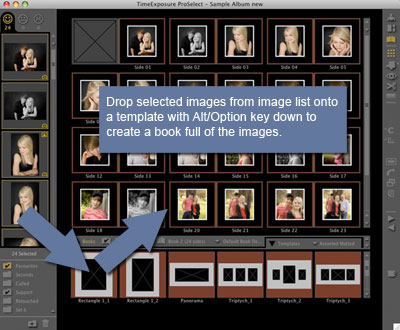 Color Management Improvements
This release of ProSelect includes a new Color Management Preferences tab where you can control the Color Management setting that ProSelect uses. By default, ProSelect now uses the color space profiles embedded in the imported images (you can override this if you wish). It will now also display images in your monitor and/or projector's color space to provide more accurate rendering of displayed images.