Earlier Versions
Newer Versions
ProSelect 2012r2 - What's New...
Release Date: October 1, 2012
With this release, we have focused on making ProSelect even more productive in the sales room and easier to setup and manage.
This page explains a few of the major changes. For a list of all changes in the new release, see this Knowledgebase article or the What's New section at the back of the ProSelect 2012r2 Reference Manual (quick access under the Help menu in ProSelect).
---
Tilted Openings Overlapping Template Edges
Even more flexibility for importing and using Photoshop templates in ProSelect.
New Information Bar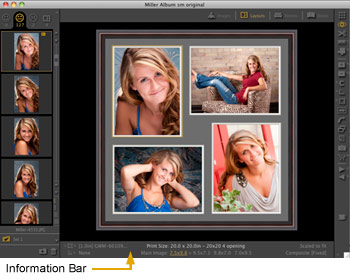 ProSelect's new Information Bar gives you the information that you need when you need it.
The bar also doubles as a navigation and toolbar shortcut. For example, you can click the room view icon to switch to Working with Rooms displaying the room with the selected print or layout in it, or change to the next or previous frame or style.
You can hide/show the bar at will with a click or keyboard shortcut.

Pop-up Menu History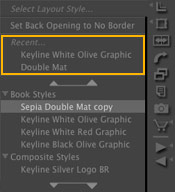 Can't remember which Frame, Style, Custom Effect or Room Image you last used? What about the ones before that? ProSelect's toolbar pop-up menus now list recently used items in a new section at the top.
You can control how may recents are shown in the Preferences.
Copyright Stamp Options in more places
Protect your valuable images. Apart from the Proofsheets, you can now add your custom copyright stamp to your images in Order Reports and Book Reports.
Organizing your Templates
ProSelect now supports unlimited Template Categories each holding unlimited Template Groups each with unlimited templates!

The new Template Manager makes getting your templates organized as simple as drag & drop. Add/remove/rename Categories, Groups & Templates, sort and preview all in this window.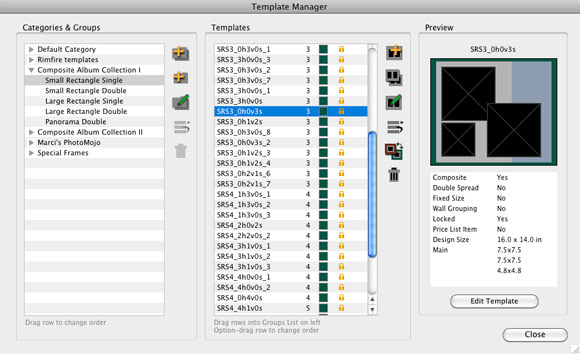 Template Editor Enhancements
Getting your openings perfectly aligned to your overlay images is easier... you can now nudge the position of the selected openings around using the arrow keys on your keyboard. Hold down the Alt/Option key for even finer nudging.
Need more working space? Just hide or show the template list in the Editor and use the extra space for your designs.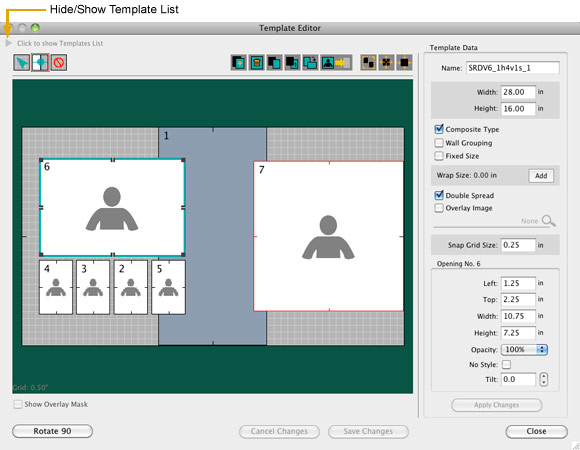 Designing Books is even faster!
Meet ProSelect's new Smart Filter and Smart Drop... For example, choose 3 images that you want to put together on a page and the Smart Filter will only show templates with 3 openings. You can even have it match image and opening orientations.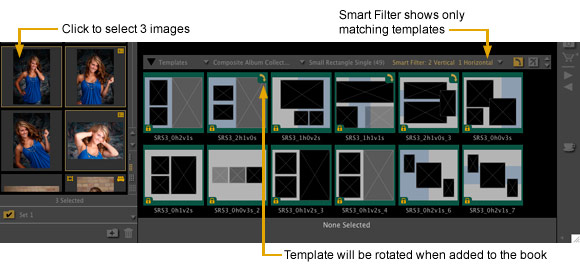 Then drag the three images together and drop them onto your choosen template to create a new page. Smart Drop will automatically place portrait images into portrait openings and landscape images into landscape openings. Square book pages will rotate automatically if required to match your images orientations (these are notated by the rotate arrow in the top right corner).
Smart Filter and Smart Drop can be used the same way when Working with Layouts.
More Flexible Book layouts
You can now mix and match traditional matted and composite pages in the same book. By default, added templates will adopt the book design's page type however you can change any page type afterward so it is now easy to insert a digital spread into a traditional matted book.

Comprehensive Production Data Exports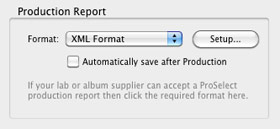 New Production Reports contain everything about the job that you have just completed including print order specifications as well as template & page construction information. Three formats are supported including XML, JSON and human readable. This open data format can be read by other programs to facilitate post-ordering image production and product assembly.
The XML report can be read by TimeExposure's new Mat Cutter Convertor which will produce mat cutting data for popular mat cutters.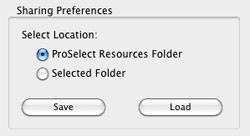 Share Your Preferences
You can now easily export and import your Preferences setup via your shared ProSelect Resources folder to get all of your studio's computers setup and working the same with ProSelect.
Ordering Prints, Canvases and Layouts togther
Ordering a complete Wall Gallery design from a Room is a snap. Just drag a marquee over all items and click the Shopping Cart icon. Every item will be transferred to the Place Order window ready to be added to your customer's order at the displayed size.

In Thumnail View, you can even order all items from multiple rooms by selecting those rooms and clicking the Shopping Cart icon.
Cropping View Changes
Changed the way the edges of wrapped Canvases are displayed in Cropping View so you can easily see the applied edge style.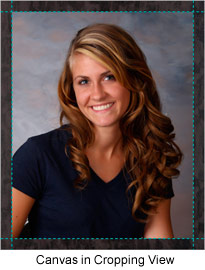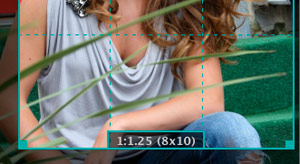 To improve cropping rectangle visibility when Working with Images, the cropping retangle has been thickened and the cropping data is now contrasted on a darker background.

A new Panorama 3:1 Cropping Ratio has been added as well as new cropping keyboard shortcuts.
Other changes
By popular request, once again shows the notes icon under the bottom right corner of the images in Show Images View.
The current number of columns set for the Image List is now saved between sessions.
The open/closed state of the Style and Frame Groups is now saved between sessions in the Preferences.
Now checks for and updates, if necessary, the low res images when selecting resource images in Edit Templates, Edit Rooms, and Edit Styles.
Overlay image Thumbnails are now stored as .png file rather than .jpg so they better represent the actual full sized image when they have transparent areas on the outside.
The currently selected images in the image list are now no longer deselected when going from Working with Images to other Working with modes..
You can now use Alt/option when clicking on the Select Size View icon to fill the current Display Area with the currently selected item in Working with Images and Working with Layouts. Previously this feature only worked in Working with Rooms.
Now includes the Wrap size and Overlay Image name in Show Selected Layout Info window (under Album menu).
Saving changes to the ProSelect Data File is now more than five times faster!
---