Earlier Versions
Newer Versions
ProSelect 2013r1 - What's New...
Release Date: Sept 1, 2013
With this release, we have focused on improvements to the slideshow and music areas in ProSelect with some great new features.
This page explains a few of the major changes. For a list of all changes in the new release, see this Knowledgebase article or the What's New section at the back of the ProSelect 2013r1 Reference Manual (quick access under the Help menu in ProSelect).
---
Manage Music
Setup music groups with different music for each client type. Music files are now stored in your ProSelect Resources Folder and can be shared between different copies of ProSelect in your studio.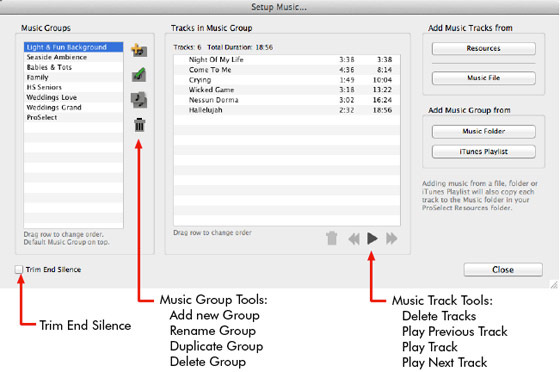 Music Synching
Your slideshows can be automatically synced to the length of your music tracks (within an allowable range of slidetimes that you select). You can pause your slideshow, skip forward and back and the music will continue to stay in sync.

Slidehow Styles
Prefer a fast-paced slideshow with full effects for your seniors, something more subdued for your family groups and a fun slideshow for toddlers? Simply setup a different Slideshow Style for each customer type.

Slideshow styles allow you to control:
The Music Group to play
Slide and transition timing
Background color or image background
Name Labels
Ken Burns effect - slow image zooming or panning (Pro Only)
Edges and border sizes (and colors)
Drop Shadows
Starting and ending options
Working with Slideshows - Mix & Match your slideshow content
The new Working with Slideshows module let's you get creative with your slideshows. Drag in images, layouts, room view images, books, title slides and, with ProSelect Pro, videos! Re-arrange them how you want and click Start Slideshow to play!

Up to 5 different slideshows as be created in each ProSelect Album with the Pro version. ProSelect (basic) user can create one slideshow per album.
Here is a slideshow created by Ron Nichols which includes many of the new features.
Editing your video content (Pro only)
ProSelect supports opening your video clips directly in Photoshop for editing and re-exporting if you have either CS5 Extended, CS6 or the Creative Cloud versions of Photoshop.
You can also open associated .psd versions of your movies (a bit like opening associated RAW images) from ProSelect and use this as a master file for your movies preserving any layers and effects that you have added.

Export Slideshow Movies
You can export your custom slideshows as fully rendered .mp4 movie files that you can upload to FaceBook, YouTube, your blog, mobile devices or burn on a DVD. Great for promotional purposes or as an additional saleable product. Check the Add Copyright Stamp box to add your logo to exported movie.
Title Slide Support
Create and manage a range of title slides as a shared resource in ProSelect then simply drop them into your slideshows at any position. In ProSelect Pro, you can also add fixed and personalized text layers to each slide. Personalized text allows you to replace some or all of the text on your title slides for each album so you can personalize it for each client by adding their names, school name, event date etc.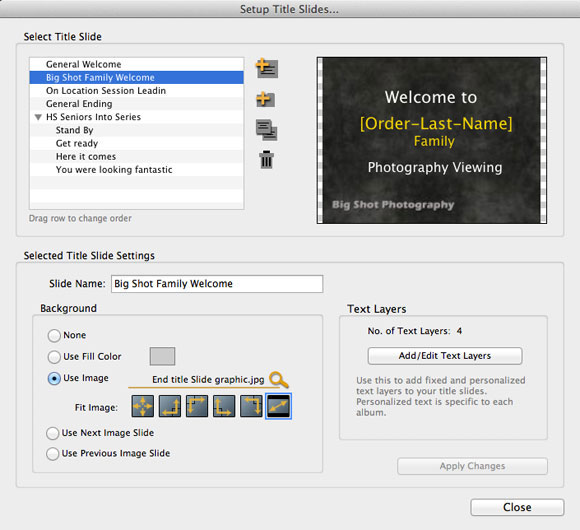 Ambient Music (Pro only)
Do you like to have some low level mood music playing during your sales session? ProSelect can now manage that for you! Simply choose a music group and volume level for your ambient music (you can save different music for each client) and start playing. When you come to play your slideshow the ambient music will automatically fade down and back up again at the end.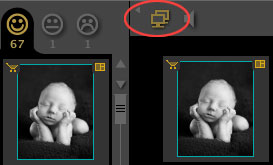 Mirror Display Area
If you are using two screens, ProSelect now remembers your last Mirror Display Area settings between each session (unless you turn off this option in the Preferences). We have also added a new button for turning this on/off in the main window.
Custom Payment Methods
Setting up you own payment methods is quick and simple in this new version.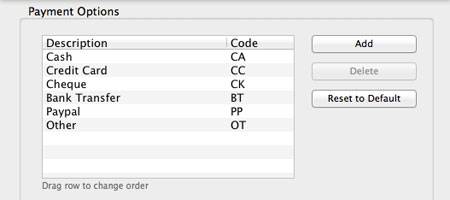 OSX Mavericks Support
ProSelect 2013r1 includes work-arounds for changes that Apple made in this latest version of OSX so you can rest assured that ProSelect will work correctly if and when you decide to upgrade your operating system or purchase a new Apple computer.
Other changes
Auto-populating a composite book page now allows the template to be rotated if the book page is within 5% of being square in size rather than being exactly square.
Dragging items to the trash icon no longer prompts you to confirm that you wish to delete them unless you have the SHIFT key down (for permanently deleting the original images as well). Selecting items and clicking on the trash icon still asks for confirmation before deleting.
You can now assign sets name for Room sets and Slideshow sets.
You can open the Edit Set Names window by double-clicking on the set name in the top title bar.
Alt/Option clicking on the text associated with many popup menus in the title bars will show their respective setup windows:
- Book Design Name -> opens Edit Book Designs Window
- SlideShow Style Name -> opens Setup Slideshow Style Window
- SlideShow Music Group Name -> opens Setup Music Window
Minimum Window size is now 1024x685 pixels.
Working with Books. Now also shows the template name for a selected book page in the info bar when you have the preferences selected to show side names on the pages.
After closing the Template Editor, any selected templates are left selected so you can quickly re-edit the same template again.
Original images -> Copy to commands now leave the internal links to the images in the original location. (Previously these were changing to the destination location). This makes it easier to simply replace the original images in the original folders after the selected images have been retouched.
All popup menus in Thumbnail view when working with Layouts, Rooms, Slideshows and Books, now open when you click on the text associated with popup menu as the dropdown menu icon.
Added shortcut menu key Control/Command-W to toggle current units.
Moved hide/show Image List button to left hand end of Working with Bar. If you don't have the Working with Bar displayed, use Shift-Tab 5 times.
In any of the Thumbnail views dragging an item to the top or bottom of the thumbnail area will auto-scroll the rows of thumbnails up or down. Due to OS limits on Macs, you need to wiggle your mouse near the bottom or top area for scrolling to continue. On Windows machines, the rows will continue to scroll automatically.
Added "ProSelect Resources Folder -> Show in Finder/Windows Explorer" (under Resources menu) to quickly get to this folder location.
Thumbnail view now fills the main screen's Display Area when Mirror Display Area is on and the Display Preferences are set to Hide Thumbnail View on the mirrored screen.
Updated the About ProSelect window. This window now also shows the status of the Quicktime, VLC libraries and OpenGL.