Earlier Versions
Newer Versions
ProSelect 2015r1 - What's New?
Release Date: Dec 1, 2014

With this release, we have added lots of workflow improvements, management and use of Stamps & Watermarks, photographer's favorites, video editing, templates with frames and styles and much, much more!
This page explains a few of the major changes. For a list of all changes in the new release, see this Knowledgebase article or the What's New section at the back of the ProSelect 2015r1 Reference Manual (quick access under the Help menu in ProSelect).
---
Stamps & Watermarks
Add as many different copyright stamps, watermarks or studio logos as you like in the new Setup Stamps & Watermarks window.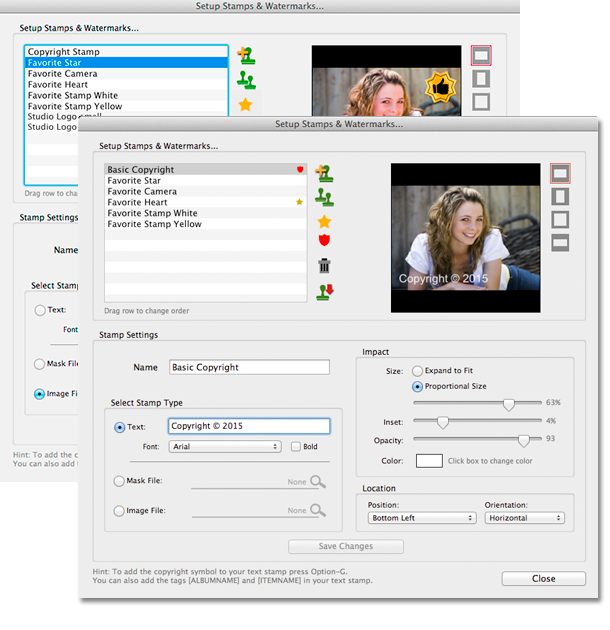 Stamps can be used to:
Apply a copyright stamp or logo to exported sample images, layouts or roomview screenshots

Apply a logo to final images via Hi-res Production. You can setup different stamps for a different ranges of print sizes)

Stamps rotate with image orientation in Unit Templates.

Protect your screen images with watermarking during a remote or in-person viewing session. You can make these as subtle or as bold as you like.

Apply text stamps with your image numbers anywhere that you can use a stamp!

Highlight your studio favorites (see below).
Guide the Sale with Favorites
Use the "F" key to quickly mark any images and layouts as your Photographer's favorites. Selected favorites will be displayed with your custom "favorites stamp" whenever shown in ProSelect (including the slideshows).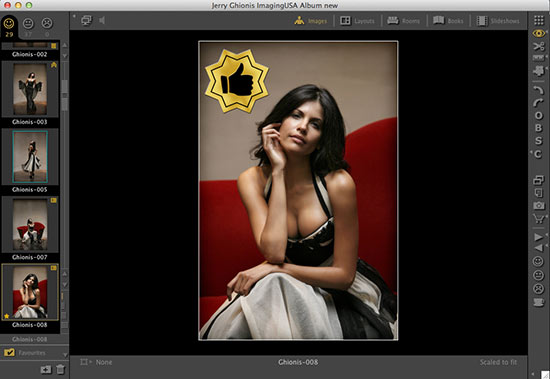 Pre-assign styles and frames to templates
Create complete, pre-designed products with any combination of a template, frame and style. During the sales session, just drop in your images and add to the order!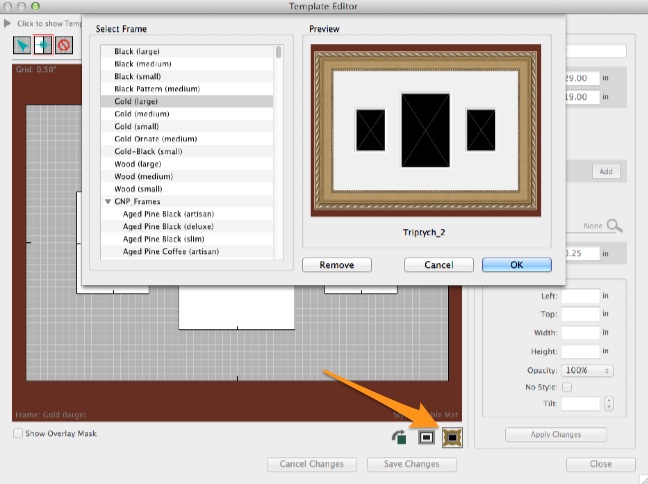 Find and Edit Templates Faster
Right-click on a layout or book page in Thumbnail View to show and optionally edit the template. The original template will be shown selected at the bottom of the screen and Template Editor will open with that template.
You can also right-click on a template in Thumbnail View and select to open the Template Editor with that template.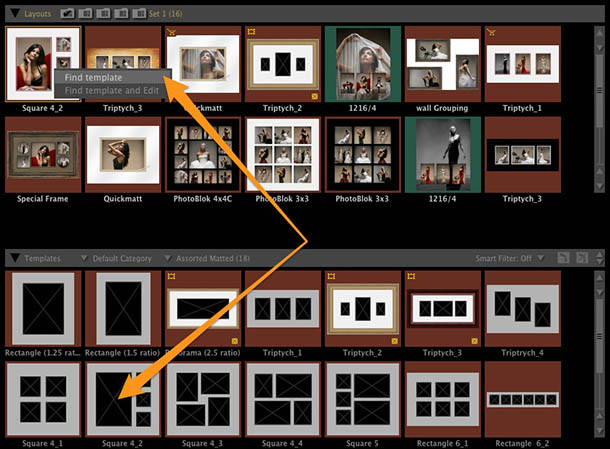 Hide Images Already Used in a Book
ProSelect's fast book building just got even faster. You can now use the new image filter button to hide any images that have already been used in either the currently selected book or all books.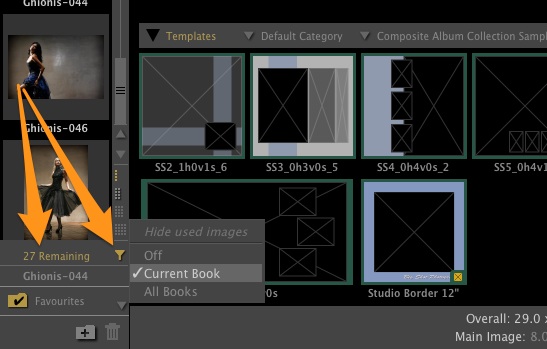 Edit Video Clips in ProSelect (Pro only)
You can now break any video content up into short video clips for inclusion into your slideshow. Make virtual copies (one or more duplicates) of videos, play preview, adjust in and out points and choose thumbnail images in the new Video Clip Editor. This works for both Library (shared) videos and Album (client) videos.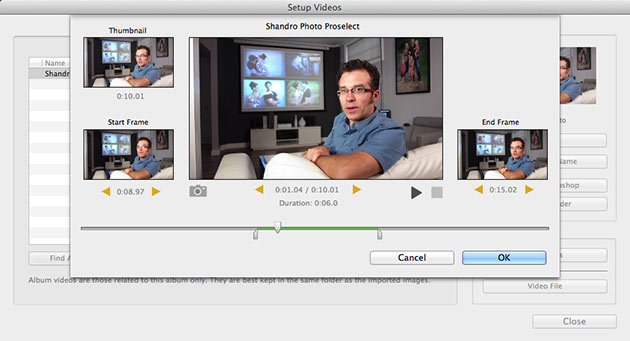 Video Transitions in Slideshows
By default, beautiful transitions are applied to the start and end of any video clips added to your slideshow.
Show the Image list on your Mirrored Screen
You can now let your clients see the image list when using Mirror Display Area on your second monitor. Hide and show this with a simple menu comand.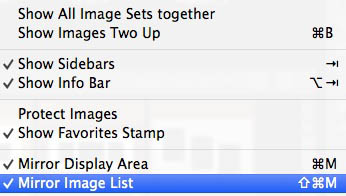 New Ordered Frames Report
This report lists all of the frames that your client has ordered for the job. It includes a thumbnail of the frame, and the frame ID. You can optionally show the selling price and the frame image file name. Great for giving to your frame supplier so nothing is missed.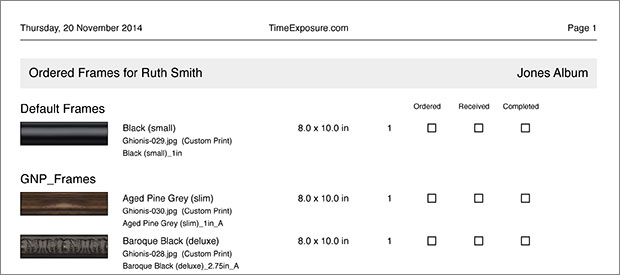 Easier Resource Image Management
You can now inspect any of your resource image subfolders in ProSelect directly under the main Resources Menu. And it's also easier to see what resource images have associated .psd files to update and edit. You can now open the .psd files into Photoshop directly from the Select/Manage Resource Images window, see if any .png files need updating from latest .psd file and the update them from within this window.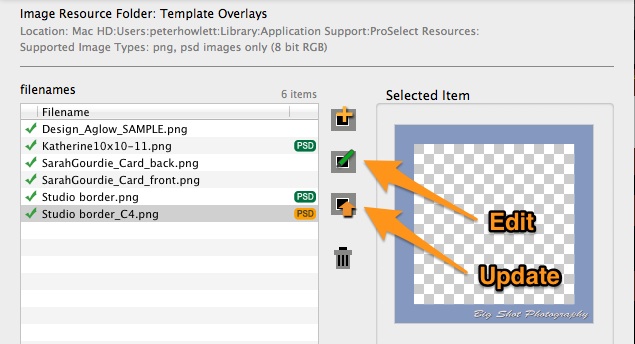 Automatically Generated Product Codes
Add a unique product code to all of your price list items with the click of one button. Product codes make it easier to match up your price list items in your studio management system (including StudioCloud).
Globally update your ProSelect Album with your retouched images
Quickly bring your retouched original images back into ProSelect without having to change the original file. ProSelect now supports the same relinking workflow (save as .psd or .tif) previously only used in Hi-Res Production. When reloading, you can now also select to reapply some or all of any custom effects actions.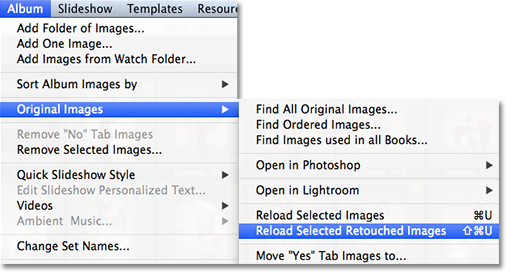 Import pre-payment invoices from StudioCloud
When linking a ProSelect album to StudioCloud, you can now choose to import an existing invoice and associated payments for the selected client and event. Imported Invoice items are added as Order Adjustments at the top of the order.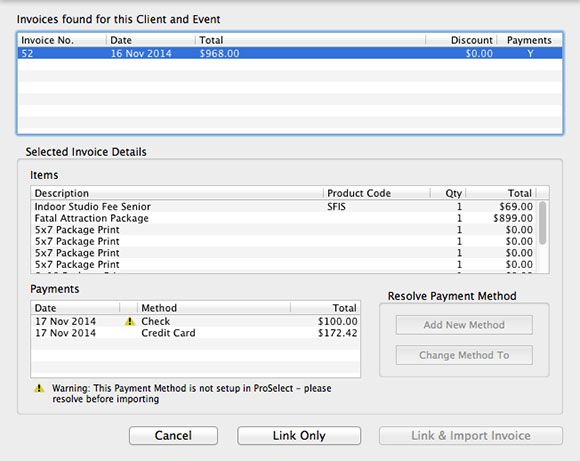 Other changes
When exporting a screenshot of a room view, the exported image is now trimmed of any black background.
Added a resolution option to all reports. The selected value is saved in the preferences and shared across all reports. Options are Low (150dpi), Medium (300dpi), High (600dpi). Default is 600dpi.
Added the option Get from Shared location to the Setup Sharing windows (Preferences) so it is easier to add computers in a shared data environment.
In Select Size View, if the item that you are trying to show is too large to fit on the screen at exact size, rather than showing a rectangle marking the maximum display size, a warning symbol is shown in the bottom right corner and the actual display size of the item is shown.
The currently selected price list is now saved with your album file and will be selected when the album is opened the next time.
When adding a print to an order, the new item is now automatically inserted after another order of the same print so that it will be combined with the same thumbnail image on the Order Report.
And many more! See the What's New in 2015r1 section in the back of the ProSelect 2015r1 Reference Manual (quick access under the Help menu in ProSelect).
---
---
All new releases are free to everyone whose TimeExposure PLUS is still current on the official release date. If your TimeExposure PLUS has expired, then as a registered ProSelect user, you can upgrade to the latest version at a significant discount through the ProSelect Upgrade page.