Earlier Versions
Newer Versions
ProSelect 2015r2 - What's New?
Release Date: May 1, 2015
This page explains a few of the major changes. For a list of all changes in the new release, see this Knowledgebase article or the What's New section at the back of the ProSelect 2015r2 Reference Manual (quick access under the Help menu in ProSelect).
---
Mac version goes native!
With this release the Mac version of ProSelect now uses the native OSX Cocoa API's. This not only increases speed, reliability and matching the user interface changes on the latest versions of Mac OSX (especially Mavericks and Yosemite releases) but also ensures better compatibility with future Mac OSX updates.
These changes have also allowed us to re-enable, by default, Ambient Music on the Mac version.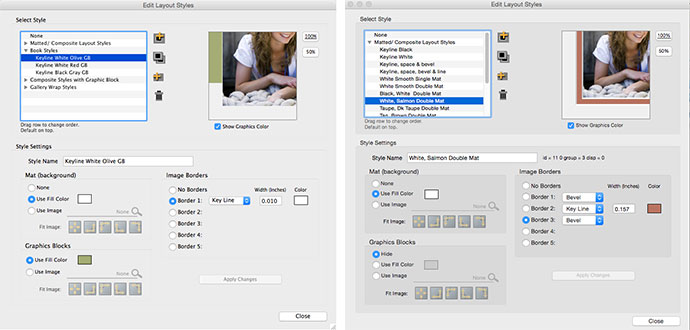 ProSelect 2015r1 on Yosemite ProSelect 2015r2 on Yosemite
Faster Movie Exporting (Mac version)
The Mac version of ProSelect now uses Apple's AVFoundation for handling all music and video playing as well as exporting .mp4 slideshow movies. As a result, slideshow movie exporting on Macs is now 10-20 times faster than in the previous versions of ProSelect. The 2 minute HD 1080 movie below with 29 slides and music was exported on a MacBook Pro in 35 seconds!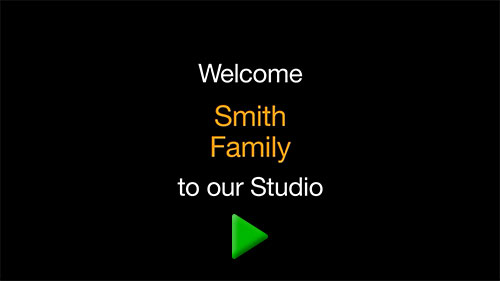 Click to play movie
New minimum OSX version: Since AVFoundation was introduced in OSX 10.7 (Lion), to use this new ProSelect release you must be using at least OSX 10.7 or newer. To export movies larger than 720HD (i.e. 1080HD) you need OSX 10.8 (Mountain Lion) or newer.
Use PNG files for background and graphics blocks in styles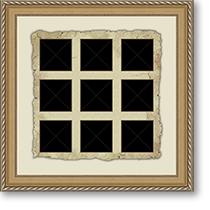 Styles just got even better with the support for images with transparent backgrounds in your Template Styles. Let your creativity loose by being able to add elements with drop shadows, rough edges and more to your designs.
Styles can now also be set to hide any graphics block elements so you can instantly switch on or off all graphics blocks in your template design by simply applying a new style.
New Included Templates, Styles and a New Room!
We have added over 50 new templates at standard sizes ready for you to use as composites, gallery wrap canvases, traditional matted products, units and wall groupings.
You can add these to your existing setup using the instructions in the Knowledgebase article: Adding the new 2015r2 default resources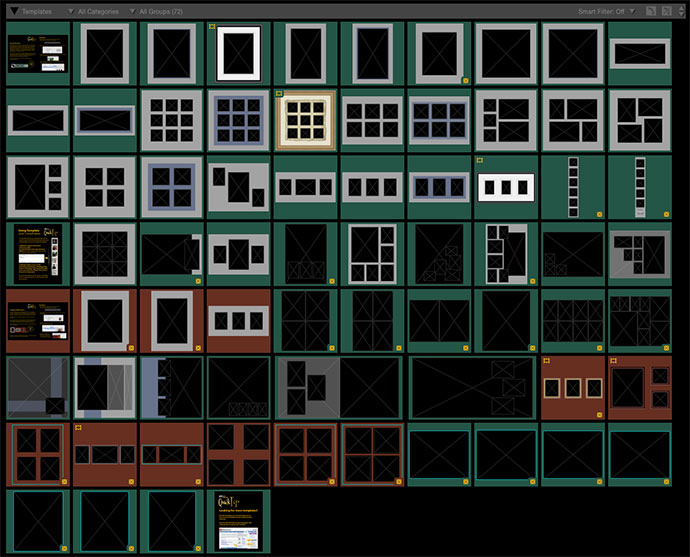 Included are 15 new high resolution background images that can be mixed and matched in your styles to create instantly saleable products. We have created and included 38 new styles to get you started.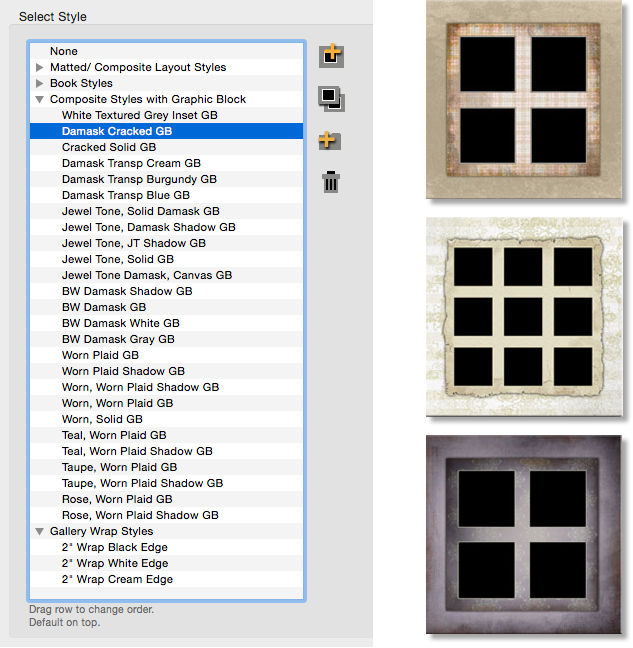 ... and this gorgeous new room to add to your library of Room View images!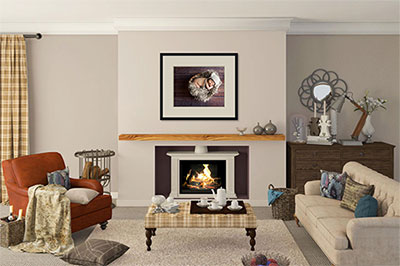 Play Slideshow Content in Random Order with one click
Group your images for the sale, but set them to play in an interesting random order in the slideshow with just one click. The new Randomize tool allows you to mark any Album Set to be played in a random order.

Double-click on the Album Set in Thumbnail View to see the first random image in Preview Slideshow Slides view. Click the Shuffle Random Order button to swap to another one. Your last random order is saved in your album file so it will stay set when you come to play or export the slideshow.
Automatically create a Slideshow Structure for every new session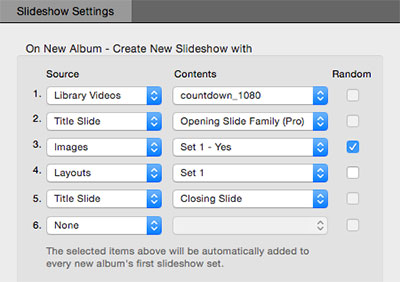 Combine any mix of library videos (Pro version only), title slides and album sets in the Slideshow Preferences, and ProSelect will automatically create this slideshow in your Working with Slideshows area. All you need to do is add your images to the album and click Play to show a professional slideshow that will WOW your clients.
Combine this with the personalized title slide text (in ProSelect Pro) and, not only is it ready to play, but already tailored for each client.
Default Slideshow control
You can now setup ProSelect to play your selected Working with Slideshows slideshow regardless of where, in ProSelect, you are working at the time (Images, Layouts, Rooms or Books).
Set your preferred Default Slideshow in the Preferences -> Slideshow for all new albums or right-click on the Slideshow icon to change it on-the-fly..
Ordering Improvements
In an extended family sales session it's now easy to select one or more items from one person's shopping cart and swap or copy them to another client. You can instantly record the "I'd like a copy of those prints too" request and keep the sale flowing along smoothly.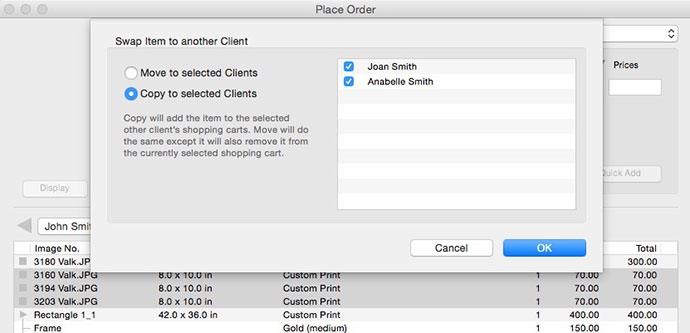 The Place Order window now displays frame and fixed size icons in the Select to Order list so you always know what you should be ordering.

Other changes
Any Album Sets that are used in a slideshow now display a slideshow tag next to the set name at the bottom of the Image List.
Windows users can now select which version of Photoshop to connect to in the Preferences: General Setting: General: Photo Editor.
The Mac version now uses OSX (rather than Quicktime) to read and convert Photoshop files added to an album. This means that most .psd formats can now be imported directly into ProSelect including 16 bit and CMYK format image files.
You can now select more than one ordered item in Place Order window and use Delete or Swap to Client buttons. Note: You can't select and drag multiple items.
The Smart Filter setting is now set and applied separately for Working with Layouts and Working with Books.
Added the option to sort the images in an album by file type under Sort Album Image by (under Album menu).
In the Client Setup window the Copy from Previous button has been changed to Copy from. Clicking this button now shows a popup menu where you can select which client you wish to copy all the data from.
Added Close Album (under the File menu) to close any currently open album. This does the same as New Album but never prompts to select folder of images (assuming this option has been selected in the Preferences).
In the Hi-Res Production window you can now check/uncheck a group of selected items by clicking on the check box of one of the items.
When NOT in working with Slideshows, you can now right-click on the Slideshow icon and see and/or select which slideshow to play when you start a slideshow when you are not in Working with Slideshows.
And many more! See the What's New in 2015r2 section in the back of the ProSelect 2015r2 Reference Manual (quick access under the Help menu in ProSelect).
---
---
All new releases are free to everyone whose TimeExposure PLUS is still current on the official release date. If your TimeExposure PLUS has expired, then as a registered ProSelect user, you can upgrade to the latest version at a significant discount through the ProSelect Upgrade page.