Free Trial
Working with Slideshows - Highlights
An emotive slideshow with music is a great way to introduce your clients to their images at the start of a sales session.

Slideshows at the click of a button
Once you have setup your music, just click the slidehow button to play a Quick Slideshow of all the items in the currently selected image set or other group from most places in ProSelect.
Make it personal
For maximum impact, spend a few minutes setting up a personalised slideshow in ProSelect's Working with Slideshows area. Here you can:
Add title slides anywhere (at start, end and in between)
Add video clips such as a studio introduction movie or short clips from the shoot (Pro only)
Add personalised text (such as your clients names) to your title slides (Pro only)
Add Layouts, Room Designs and Books to your slideshow
Syncronise your music so it ends in time with the end of the show.
To create the second slideshow, we just dropped in a video at the start, selected another slideshow style and re-export the movie with Add Copyright Stamp checked this time. Super Easy!
Create a product that they will want to buy
Any slideshows that you design to play in ProSelect (like the ones above) can be exported as a .mp4 movie at different sizes for playing on mobile devices, TVs or for uploading to Facebook, YouTube or your blog. Exported movies can include your studio copyright stamp at the click of a button.
Don't forget to use these to promote your business as well!
Different clients - different music, different styles
Setup different slideshow styles for your different client types (babies, kids, seniors, families, weddings).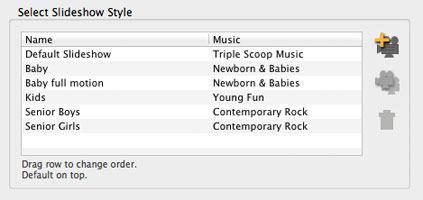 Each style can use a different group of music tracks, have different backgrounds, effects and speeds.
ProSelect gives you the flexibilty to make each slideshow (and exported slideshow movie) individual and work best for you and your clients.
ProSelect Pro extra features
With ProSelect Pro you can also
Create up to 5 different slideshows for each client
Include motion/zoom effects (Ken Burns) in your slideshows
Add video clips
Add text to your title slides
Find out more