WebGallery Features
Sell Images Online - Easy and Fast
Our FREE Upload Manager software does all the work for you. Whether you have 36 or 3600 photos, you can get your images onto the internet with just a few minutes of your time. You can upload your images for viewing, proofing or e-commerce sales.
WebGallery's beautiful flash-based viewer provides a smooth opening and visually rich and professional looking user experience with subtle gradients throughout.
BENEFITS
• Sell More Photos
• Save Time
• Expand Your Market
• Commission-free Online Sales
• Free Online Sales Trial
• Sell larger prints using Room View
"Having just switched to TimeExposure's WebGallery from another service, I wish that I had done this ages ago! TimeExposure's service is so simple to use - I can upload my images in no time, it looks great, and is very easy to use both from my point of view but also from my clientele. I have had a great response."
Web Site Integration
Your WebGallery viewer is designed to seamlessly integrate with your existing web site so it appears, to your customer, to be part of your web site. When they leave the WebGallery area, they are automatically directed back to a nominated page on your web site.
You can choose one of our standard color themes (white, light gray, dark gray or black) and add your logo images for the top of the page or you can use the integrated Style Editor to fully customise all of the colors if you wish. To see an example of the Black theme in our Demo Gallery click here.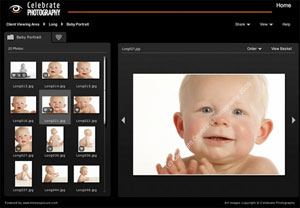 Click to enlarge
Copyright Protection
For speed and protection, your images are only uploaded as low resolution copies.
For added security against screen capture software, you can have a copyright stamp or watermark automatically applied to the displayed images in any or all of your uploaded albums.
Albums can also be password protected to protect your client's privacy.

Easy Up-Selling using Room View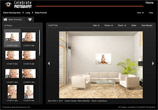 Click to enlarge
Traditional on-line selling rarely results in the sale of a large sized print. However, WebGallery changes all of that by allowing your clients can see their images correctly scaled at different sizes on a variety of room backgrounds. They can also select and see a frame around the images. This makes it easy for them to comfortably order an appropriate size for hanging on a wall. To see an example in our Demo Gallery click here.
Book Viewer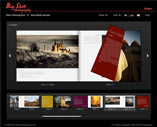 Click to enlarge
WebGallery can also display single and double-side books in its beautiful page turning Book Viewer. This is the perfect way to display your favorite albums or books or ot get on-line client approval/comment prior to production.
Just upload your book for display using the WebGallery's Book Viewer. If you allow, customers can add comments or approve each page on-line then send that information directly to you.
If you have designed your book in ProSelect than uploading a book is super-simple using ProSelect's WebGallery -> Upload a Book page. To see an example in our Demo Gallery click here.
Keeping Control
All on-line orders and selections come back to you so you can keep control of quality, delivery and that all-important customer contact.
Sell Photos Here and There
TimeExposure's WebGallery supports multiple currencies and price lists so you can easily sell your photographs in the next state or the next country.
Delight Your Customers
Our simple display and online photo ordering system is a breeze for your customers. They can select their favorites and invite their friends to view the images and place orders. You can also allow customers to display images in B&W or Sepia and order this way if they wish.
| | | |
| --- | --- | --- |
| Ordering Photos | Ordering Favorites | Shopping Basket |
| | | |
| | Click to enlarge | |
Choice of On-line Payment Methods
WebGallery supports a range of on-line payment methods including Paypal, Paypal Pro, eWay and manual credit card payments. (Some options are only available in some countries). Because you can offer a choice of payment options, even those customers who are not comfortable with internet payments will happily order from you.
Commission Free Sales
TimeExposure does not charge any commission on any sales that you make using WebGallery's on-line ordering system. (Note: Your chosen payment gateway may charge you a transaction or commision fee on the credit card transaction.)
ProSelect Integration
If you own ProSelect you can upload images, layouts and books from within ProSelect directly to the Upload Manager which will run in the background doing the upload while you carry on with other work in ProSelect
Orders and favorites received from WebGallery can be imported back into your ProSelect album and processed the same way as in-person sales orders.
Monitoring
WebGallery keeps track of your online visitors, orders and referrals for each job so you can see how your online sales are working for you.
Free Trial Selling Photos Online
Try the service for one month on us. We know you will love it! You can register online right now, download the software and start uploading your images today!