Wedding Photography Solutions
Replace your paper proofs with a digital solution
"I would like to congratulate and thank you for creating this fantastic piece of software (ProSelect). We run a small portrait and wedding photography studio in Sydney and have incorporated it into our work flow because of it's ease of use. In fact, we show the client how to use it in about two minutes and they choose their image selection themselves. And you know what happens when they choose the images themselves... BIGGER SALES!!! Our sales have increased since using ProSelect so thank you very much and well done.
Save time and money with digital proofing.
Drop your original images into ProSelect to create an album that your wedding clients can use to select their favourite images. ProSelect honours EXIF camera rotation and capture time (if present) so your images will be correctly rotated and you can easily combine images from multiple cameras in correct sequential order.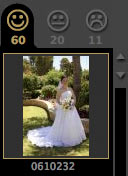 ProSelect's simple Yes, Maybe or No selection system is logical and easy to use - people seem to love the smiley faces.
Spend a few minutes showing your clients how to do it and they will enjoy making their selections themselves - freeing you to be doing other work.
Once you have the short list in ProSelect's Yes and Maybe tabs, you can then use Move or Copy the original images to another folder based on the selections made ready for album planning.
For simple composite album design, you can use ProSelect's templates to design your album pages. ProSelect's High-res Production module will then automate Photoshop to produce your final images.
Make every wedding a referral generator
Most wedding couples love having their wedding images on the internet for friends and family to see. If you have an e-commerce enabled web site then you can also sell prints to remotely located family members.
However, from our experience, the best reason to do this is to get as many of the couple's friends visiting your web site as you can. So include internet display of a selected number of images (we recommend 100-150 images) as part of your standard package. At the wedding, have cards on each table explaining where and when people can view the images through your web site.
Many of the wedding guests will be looking for a wedding photographer in the future too - don't let the opportunity pass!
Time Exposure's Web Gallery system easily integrates with your web site so visitors see it as being part of your site. Uploading images couldn't be easier - our free Upload Manager software that does all the work for you.
Design and create composite wedding albums automatically
If you are designing your composite album pages in Photoshop, then there is a better way....
ProSelect's Book Designer uses scalable layout templates that can be used to create any sized album. Simply setup your book design (Page size, bleed, type etc), add your templates and drop your images into the each template's openings, crop in, if you wish, and slide them into place. You can edit ProSelect's existing templates, create your own or download extra template sets from our shared template library or one of the Composite Album Collections from ProSelect Resources Page. Use Proselect's image effects to change images to B&W or sepia or create your own custom effects using Photoshop actions that you can run from ProSelect. Apply styles to one or more pages to instantly change the look of your album.
ProSelect's High-res Production module will then automate Photoshop to produce your final images ready for printing.