Back
Windows Installation Problems
Last Updated July 2021
Can't find a previous version of ProSelect 20xx Message
When installing a new major version of ProSelect for the first time, you need to download and use the Full Installer rather than the Update Installer. For example, if you have ProSelect 2019r2 or earlier already installed and you are installing ProSelect 2020r1 for the first time you need to Full Installer since it includes the Default Resources folder for the new version.
Later on, if updating ProSelect to a newer minor version (such as going from ProSelect 2020r1.2 to 2020r1.3), then you only need the Update Installer though you can still use the Full installer.
Windows 7 - Cannot connect to Server error
After successfully installing ProSelect, to register, activate or start a trial, you may need to run some updates on Windows 7 to use the latest security protocols.
See this KnowledgeBase Article: Error connecting to TXE Server during activation or trial start
Norton 360 blocks installation of ProSelect 2020r1.5 and newer.
To simplify installation on Windows computers, the ProSelect installer and application software for ProSelect 2020r1.5 and newer are now codesigned using an Extended Validation (EV) Codesigning Certificate. This allows it to pass the Microsoft Defender Smartscreen checks (see sections below).
The installer needs to delete the old version of ProSelect before it can install the new version. However, because the codesign certificates for versions prior to 2020r1.5 are different from the later versions, Norton 360 blocks the removal of the old version and stops the ProSelect installer from running.
To solve this, you can either:
(a) Temporarily disable Norton 360 during the installation
Follow these steps:
Open Norton 360 main Window - (we assume you are using Classic View)
Select "Settings" on the top horizontal control bar in the window
Select the "Antivirus" option
Select "Data Protector" - the third tab
Push the slider to turn off (defaults to 15 minutes)
Proceed with the installation of ProSelect
(b) Manually uninstall ProSelect before installing it again
In this case, you will need to download and install using the FULL installer which includes the default resources that would be removed when you uninstalled ProSelect. Please note that your setup (prices, templates, rooms, etc), and Preferences settings will not be lost when you do this because they are stored in a different location on your computer and are not removed during the uninstall process.
Note: You will only need to follow this procedure once. After you have successfully installed ProSelect 2020r1.5 or newer on your computer future update should not trigger Norton 360.
"Windows Protected Your PC" Message
In Windows 10, there is a new protection option called SmartScreen which is part of the new Edge browser. The first time you try to install ProSelect you may see this window below.

In the text that's almost invisible until you mouse over it, you should see "More Info" at the bottom left. Click on this to see this window:

Then click the Run Anyway button.
After you have installed ProSelect once, Windows appears to remember that the software is OK and will let you install any updates later without having to go though this procedure again.
ProSelect Installer hangs up part way through
When running the ProSelect Installer, you will see the message "Installing Windows 32-bit runtime... (this may take a minute)" at one of the last steps. If this step does not complete after a few minutes then see this article for a solution: Missing DLL error with ProSelect 2017r1 on Windows
If you successfully completed the installation but are unable to start ProSelect, see the following sections on this page.
This app can't run on your PC

This issue has been reported by some users. We have yet to determine the exact cause but it is related to your Windows security system and seems to affect lots of applications.
After googling this issue, we found this page which offers a number of suggested solutions. Note: This article suggests that you download a tool to fix the problem. We have NOT tested this tool and do not know if it is safe to download or use so we recommend that you just try the other options suggested on the page. If you do decide to download the tool, it is at your own risk.
If one of these solutions works for you, please let us know what you did and we will update this page for other users.
This App has been blocked for your protection (for old versions of ProSelect)
Microsoft has recently made changes, through operating system updates, that prevents many software programs created prior to January 1, 2016 from being installed on a computer with the latest versions of Windows 7 or newer.
ProSelect versions 2015r2 and earlier are affected.
These increased security requirements invalidate SHA -1 code signing certificates with expiration after January 1, 2016. These certificates are digital signatures attached to software that confirms that the downloaded installer file is from a recognized developer and has not been tampered with since it was originally built and signed by the developer.
If you see the message "This App has been blocked for your protection" when installing ProSelect_Setup.exe then likely you are trying to install a copy of the ProSelect installer which contains a code signing certificate which was acceptable at the time of the software's development, but is now rejected by Microsoft.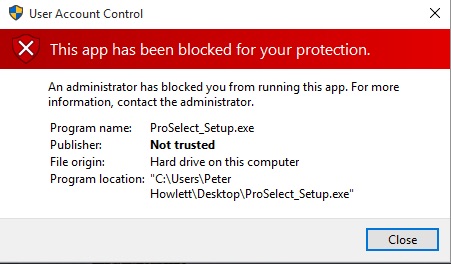 If you are registered for ProSelect 2015r3.x or newer, then the easiest solution is to download the latest ProSelect Installer (at least version 2015r3.5) and install that since these versions have been updated to a new SHA -2 code signing certificate which Microsoft now requires. If you downloaded this version before Feb 14, 2016, you should download it again.
If you are trying to install a legacy version of ProSelect, you can install ProSelect using the method below. This process should allow you to install other older software programs affected by this Microsoft change as well.
Run as Administrator from the command prompt
Double-click on the ProSelect_Setup_xxxx.zip file to open it.
Drag the ProSelect_Setup.exe file from inside your Zip window onto your Desktop.
Open Command Prompt as Administrator.

To do this on Windows 10, right-click on the Windows icon in the bottom left corner then select Command Prompt (Admin) from the menu. (See sections below for how to do this on other Windows versions.)




In the Command Prompt Window type in (see below):
cd \Users\Your_Account_Name\Desktop (This changes to your desktop directory)
ProSelect_Setup.exe (This runs the installer)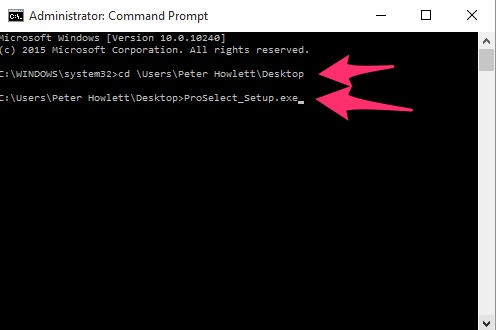 The ProSelect installer should start running so you can complete your installation.
The above solution was one that we found that worked (most didn't) from the suggestions in this YouTube video.
Run Command Prompt as Administrator on other Windows versions
Windows 7 (and Vista):
Right-click on Windows icon (Start button) in the bottom left corner
In the Start Search box, type cmd, and then press CTRL+SHIFT+ENTER
If the User Account Control dialog box appears, click YES button to Continue.
Windows 8:
Right-click on the Windows icon in the bottom left corner
On the Start screen, type command
Right-click on Command Prompt and select Run as administrator from the popup menu.
"Api-ms-win-crt-runtime-xxx.dll is missing" when starting ProSelect
If you are seeing this message when you try to run ProSelect, see this article.
KnowledgeBase Article: Windows Installation Problems