Back
Setting the PPI on produced digital files
ProSelect 2017r1 and newer includes full support for the ordering and production of Digital Image Files. When you setup your price list for these items, you can specify the long-side size in pixels for each digital file type. 
While it makes no difference to the produced size of your images, the "internal PPI" of the output files is, by default, set to be the same value that you have setup in your Preferences -> High-Res Production -> Output Settings for Prints (normally around 300PPI). 
This may cause some confusion with your clients if you deliver them a 1000px wide file at 300PPI versus a 1000px wide file at 72PPI because, if they do try to print them (illegally, we assume), some software may try to upscale the images with poor results.
If you wish make it clear that the digital files that you provided are screen resolution only versions, you can change the output file's PPI using a Completion Action in ProSelect. To do this:
Download the Photoshop action Change_72_PPI.atn file from the ProSelect Resources Download page (in the Photoshop Actions section under the Misc. tab).


Unzip the file and install the action into Photoshop (usually by double clicking on the .atn file).


In ProSelect, open Preferences -> High-Res Production -> General Actions, then click the Reload button to get the latest list of installed actions from Photoshop.


Select "Change 72 PPI" from the dropdown menu then drag the "Rescale to 72 api" action and drop it on your Digital Files box in the Completion Actions section.


This action will be run at the end of every produced digital file, changing the file's PPI value to 72ppi without changing the size of the file in pixels. You can check the results by opening the output file in Photoshop and choosing Image Size under the Image Menu.
Note: If you wish to disable this action from running during production, you can uncheck the box at the right-hand size of the action name.
Setting the exported file type for your digital files
In ProSelect 2019r2 and newer, in the Preferences -> High-Res Production -> Output Settings -> Output file you can check the box Digital Files: Always Produce as JPG (Quality: 10). Selecting this will override any selected Output Format setting so you then export your regular print files as Layered Photoshop files or Flattened TIFF Files and your digital files as jpgs without having to change the output format when producing each type of file.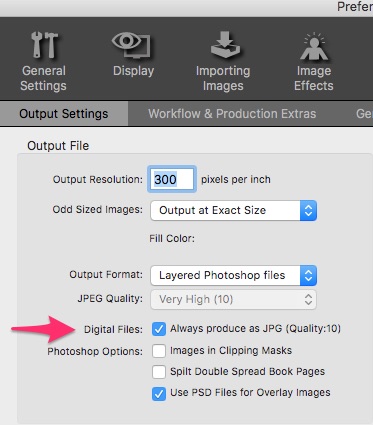 With earlier versions of ProSelect, if you wish to export print and digital files in different Output Formats then you need to set the first Output Format, export the first lot of files, change the setting then export the rest of your files.
KnowledgeBase Article: Setting the PPI on produced digital files