What Your Clients See
To see your uploaded images, your clients simply go to a web page which contains the WebGallery Viewer.
There are a number of different ways for your clients to enter the album through the Viewer page. These options are simply selected by the URL link that you decide to use on your web site. You can have multiple entry URLs of different types. The sections below expalin the options available:
Your choice of how they your WebGallery pages...
Option 1 - An Album Index Page
When you use this option the Viewer will show on startup a list of all currently available uploaded albums on the selected Index page. (The screen grab below is showing an Index page named Client Viewing Area.)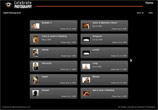 Click to enlarge
Each album listing includes the album's name, the event/job date (if set), the on-line expiry date (if set) and a thumbnail of the first image in the album. If you have uploaded a password protected album, the first image is not shown, rather it shows the default Protected Album image (which you can
change to another image, if you wish).
You can setup an unlimited number of Index pages and load different albums onto different Index pages (eg portrait vs wedding vs commercial albums). Then use a different link to each Index page from your web site. Each index page can optionally be cross-linked to each other so your clients can easily move between Index pages without leaving the WebGallery Viewer page. To see this option in our Demo Gallery click here.
Option 2 - Client Album Login Page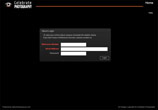 Click to enlarge
When you use this option the Viewer will start up prompting the visitor to enter the Album's unique Reference ID (which you have set), their email address and, if required, a password.
This option is recommended if you do not wish your clients to see any other uploaded album names. The collected visitor email addresses are also automatically sent to you when the album expires. These can be used for follow-up email marketing. To see this option in our Demo Gallery click here (use Reference Number: "lacey").
Option 3 - Directly into an Open Album
When you use this option you can have a specific album automatically open from a link on your web site. This is really useful if you are using one or more WebGallery albums to display your portfolio or examples of recent jobs. In this case, you would normally set these albums to never expire. In this case, you can also select to have the album automatically start in Slideshow view.
To see this option in our Demo Gallery click here. To see this option with the automatic slideshow start click here.
Customizing the WebGallery Viewer's Appearance
Apart for the black background theme shown above and in the Demo Gallery, you can quickly select from the range of different page color themes shown below and customize these with your own logo graphics. If you want more control over the colours you can use the integrated Style Editor to fully customise all of the colors.
| | | |
| --- | --- | --- |
| White Theme | Light Grey Theme | Dark Grey Theme |
| Click to enlarge | Click to enlarge | Click to enlarge |